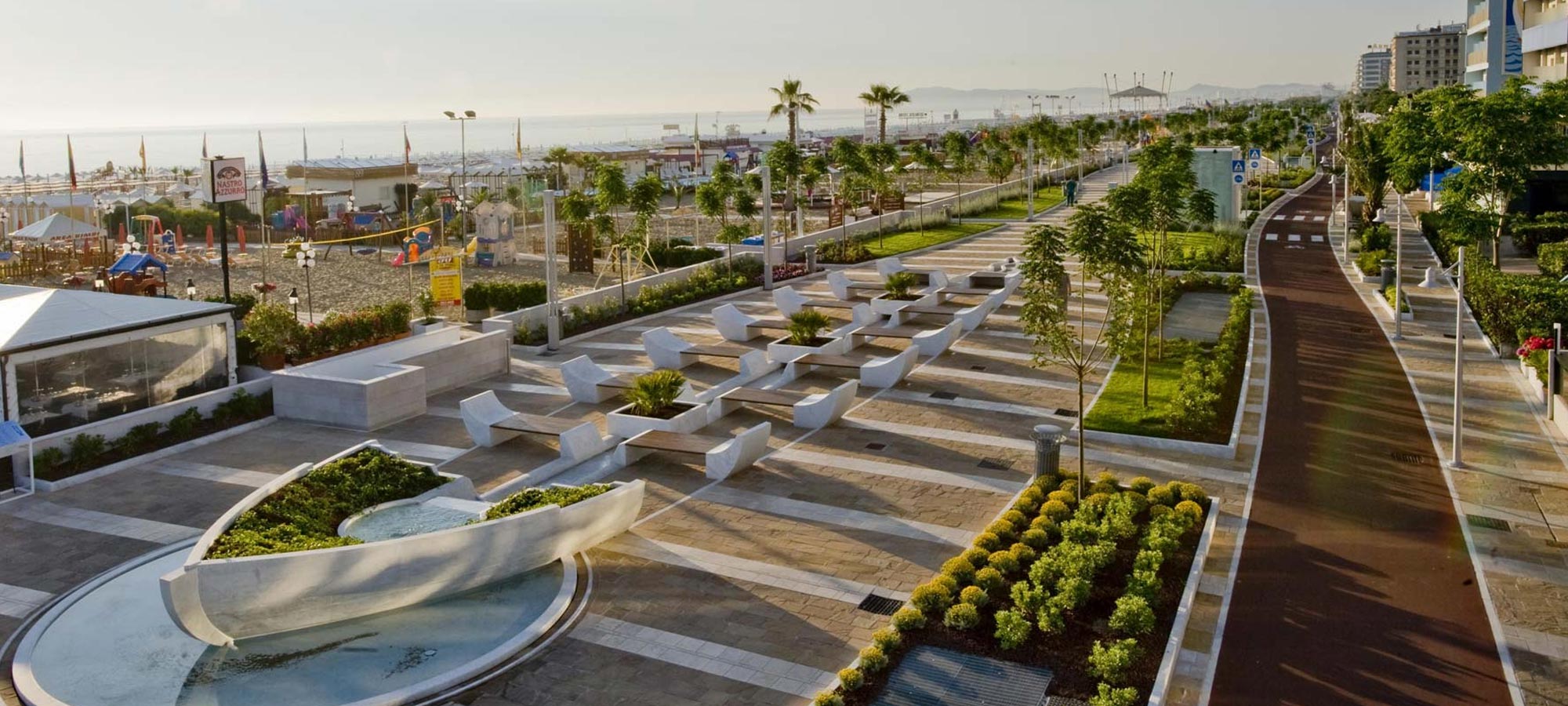 Direct connections from Riccione
About Riccione
Since the 1930s Riccione gained the status of a main destination of summer tourism on the Adriatic riviera of Romagna, and, together with Rimini, is one of the best known seaside resorts in Northern Italy. Every two years, a festival called the Festival Del Sol takes place.
Tourism in Riccione is massive, including mostly young people attracted by its great nightlife. The Adriatic coast in Emilia Romagna is called Riviera Romagnola and it has plenty of night clubs. Riccione also attracts families with children, thanks to its theme parks, hotels organize baby sitting for kids all day in the hotel and on the beach.
The scores of hotels on the Riviera, one next to the other, determine the large number of tourists flowing there in summer. The main streets of Riccione, viale Dante and viale Ceccarini have numerous night spots, bars, and hotels, in the night and they are the best place for shopping and eating during the day. The seafront is a long boulevard, shaped by a road and an equally developed bicycle lane, that reaches up to the town's end going along the sea.
Cycling is popular in the Emilia Romagna area and a number of Riccione's hotels have teamed up to capitalise on this. These hotels provide specific facilities for cycling tourists, including bike hire, cycle storage and tour guides.
One of the main event in Riccione beaches is the pink night, where the city becomes pink. There are parties on the beaches all the night for an entire week end and it is possible to see the Adriatic coast becoming pink for all the magnificent fireworks.
View all timetabless to and from Riccione
Official Bus transfer to Beer & Food Attraction Fair
30 January 2020
From BOLOGNA AIRPORT <–> FIERA BEER AND FOOD ATTRACTION Shuttle Italy Airport will be the Official Bus transfer from Bologna Airport to Beer & Food Attraction Fair. The 6th edition of the most innovative and unique international fair dedicated to the Eating out Experience. Explore the widest and most complete offer of beers, drinks, food products, …
Read all
Official Shuttle & Bus trasnfer to SIGEP 2020
5 December 2019
From BOLOGNA AIRPORT TO – SIGEP / RIMINI / RICCIONE Official Shuttle & Bus trasnfer to SIGEP 2020, the 41st International Exhibition of Gelato, Pastry, Bakery and Coffee Making. From 18th to 22th January 2020 easily reach Rimini Fair & Expo Center through our special shuttle. Buy your tickets online and SAVE 20% (Tickets can …
Read all